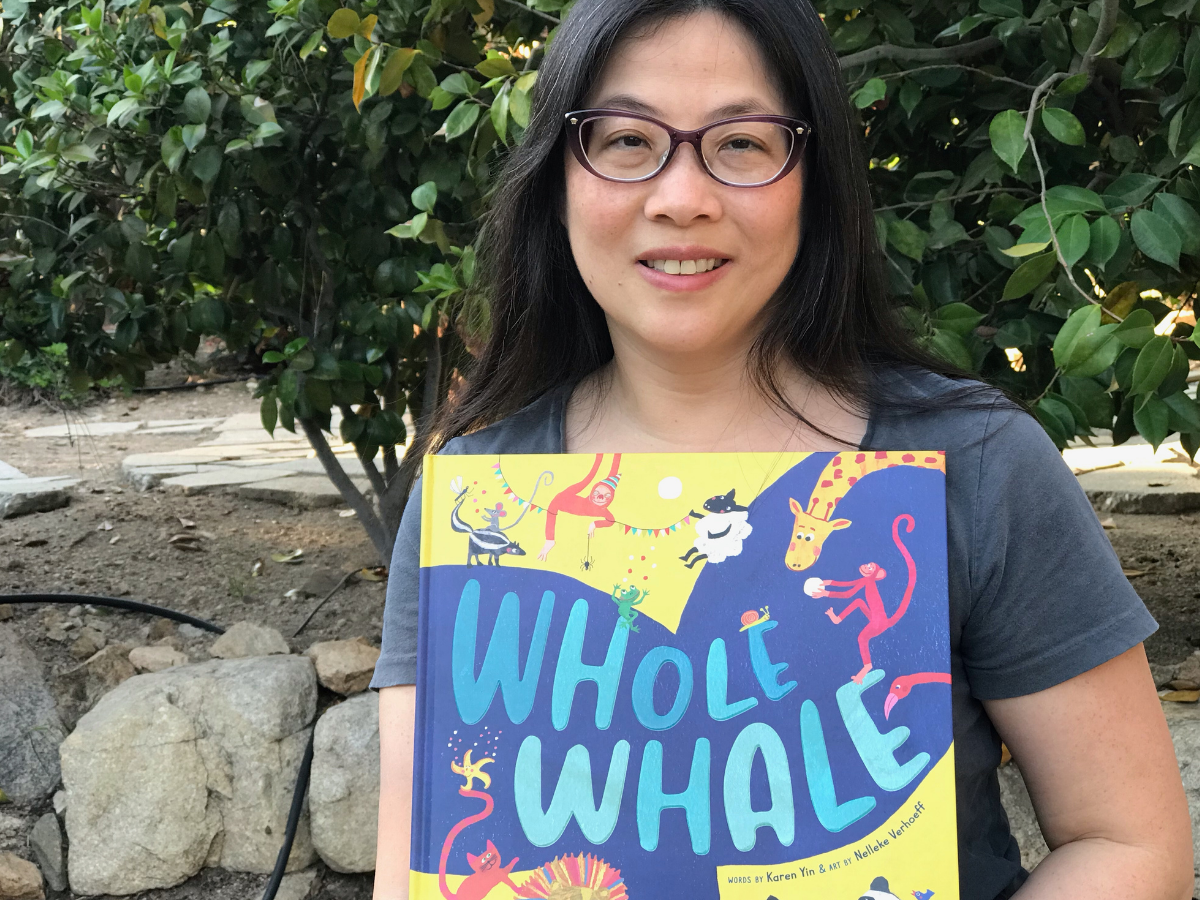 Karen Yin, writer and founder of Conscious Style Guide, shares how inclusion and belonging inspired her picture book Whole Whale.
"One hundred might fit in this tale, but can we fit a whole blue whale?"
Big Problems require Big Solutions. In Whole Whale, one hundred animals gather in the pages of the book to play. But as the pages fill up with unusual creatures, it becomes impossible for the largest one to join the fun. How can everyone be included when there isn't enough space?
I came up with the premise for Whole Whale while grappling with the human rights violations at the U.S.-Mexico border and the U.S. government's long-standing practice of tearing families apart. I turned my devastation into action by imagining ways a blue whale, the largest animal in the history of our planet, can squeeze into a book already crammed with ninety-nine animals.
In the early drafts of my meta story, I proposed five solutions in an art note:
Possibilities: Animals work together to fit like a jigsaw puzzle, the whale holds animals inside its open smile, whale goes under/behind the others (explore 3D or Z-Depth), creatures cross page borders, or pages fold out to show that even structures can be changed. Emphasize inclusiveness, acceptance, and keeping families together.
Eventually, I cut the options down to three before submitting the manuscript. After all, I didn't want to overwhelm the editors reviewing it for acquisition. Two of the options were more traditional and budget-friendly. My dream, however, was to have pages expand to show that even structures can be changed. The animals break down the walls of the book so their whale friend can be included.
To my delight, Barefoot picked my dream option! (I like to think that the art note helped sell the manuscript.) The actual double gatefold is a stunning work of art that champions equity and diversity. The reveal in Whole Whale stretches four feet, bigger than some of its readers. I'm lucky to have found the perfect partners in Barefoot and the illustrator, Nelleke Verhoeff, in bringing this story to three-dimensional life.

How can we work harder to include those who are regularly told they don't belong?
I hope the outside-the-book solution sticks with children throughout their lives. Even as adults, we get boxed in by the misconception that some people have the wrong body or appearance or behaviors for certain roles, activities, and identities. How can we work harder to include those who are regularly told they don't belong? Moving through the world in a compassionate yet critical frame of mind pushes us to question our assumptions about structures. If it was people who built the structures, created the boxes, and drew the lines, then people can also change them.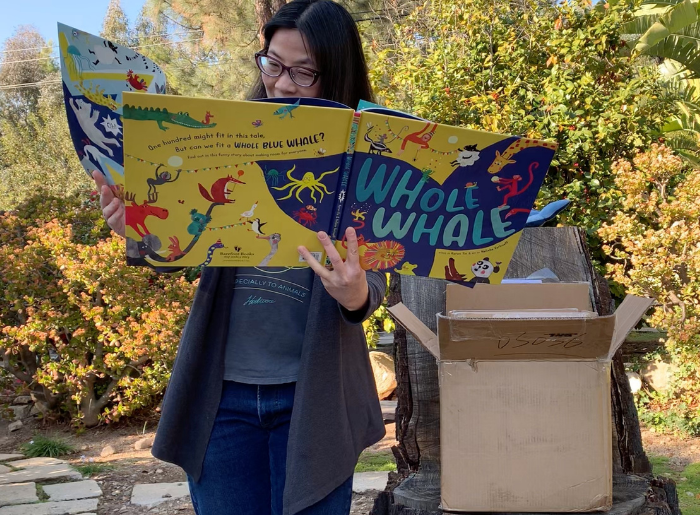 My whale, who represents historically marginalized members of society, literally appears along the margins for most of the book. When the animals see the writing on the wall for the whale, they work together to change the way her story ends. Instead of leaving her out or telling her to change, the animals transform the space to welcome her. To me, that's what allyship means: going beyond kindness to do what's just.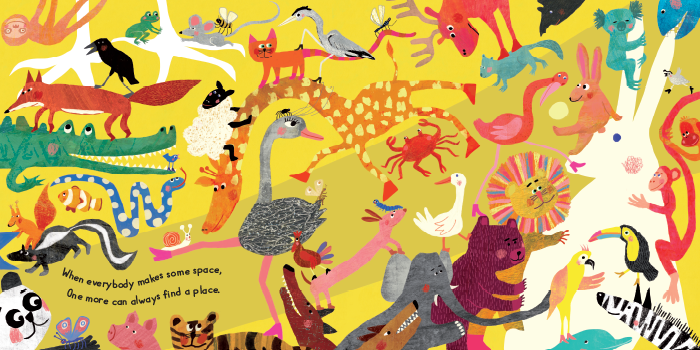 "When everybody makes some space, one more can always find a place."
To read about inclusive language for children, visit Conscious Style Guide's Teaching Children section.
---
How many animals can you fit? Try out our free printable!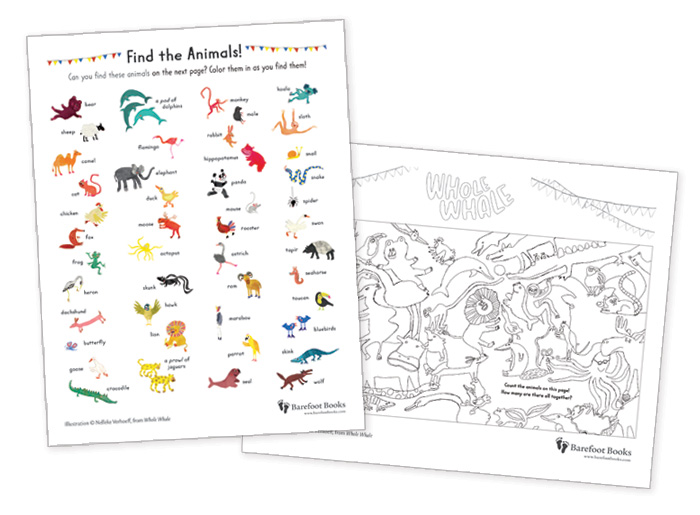 ---
About Karen Yin
Lambda Literary Fellow Karen Yin is an author-illustrator living in Southern California. The founder of Conscious Style Guide, Karen embraces inclusiveness and making space for all. She is a proud member of the Authors Guild, the Dramatists Guild, and the Society of Children's Book Writers and Illustrators. Whole Whale is her debut picture book. Her second book, So Not Ghoul, will be published by Page Street Kids in 2022.
About Whole Whale
"The artwork is cheerful and bright with high-contrast colors, depicting wonderfully unusual animals like rooks, rhinos, crabs, koalas, tapirs, skinks, and quails, all interacting with joy . . . But perhaps the truest charm of this book lies in its language, rich with assonance, alliteration, and internal and end rhymes and liltingly cadenced with read-aloud rhythm" – Booklist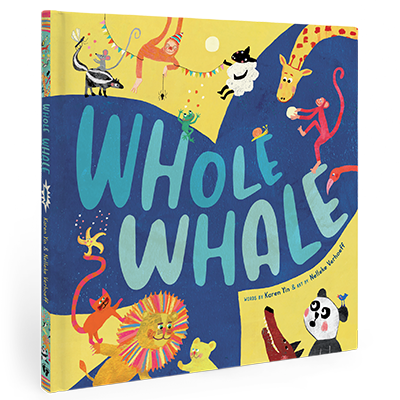 Whole Whale
Written by Karen Yin | Illustrated by Nelleke Verhoeff
No one likes to be left out! Laugh along with the BIG book that fosters both kindness and mathematics. Young readers will giggle with delight as one hundred unusual animals try to squeeze into the oversized pages of this raucous rhyming tale. "But can we fit a whole blue whale?" is repeated throughout, as more animals join the melange. The humorously explosive ending features an expansive double gatefold. Educational endnotes list the 100 animals in the book.
---
Join our mailing list for more behind-the-scenes looks at current and upcoming books!