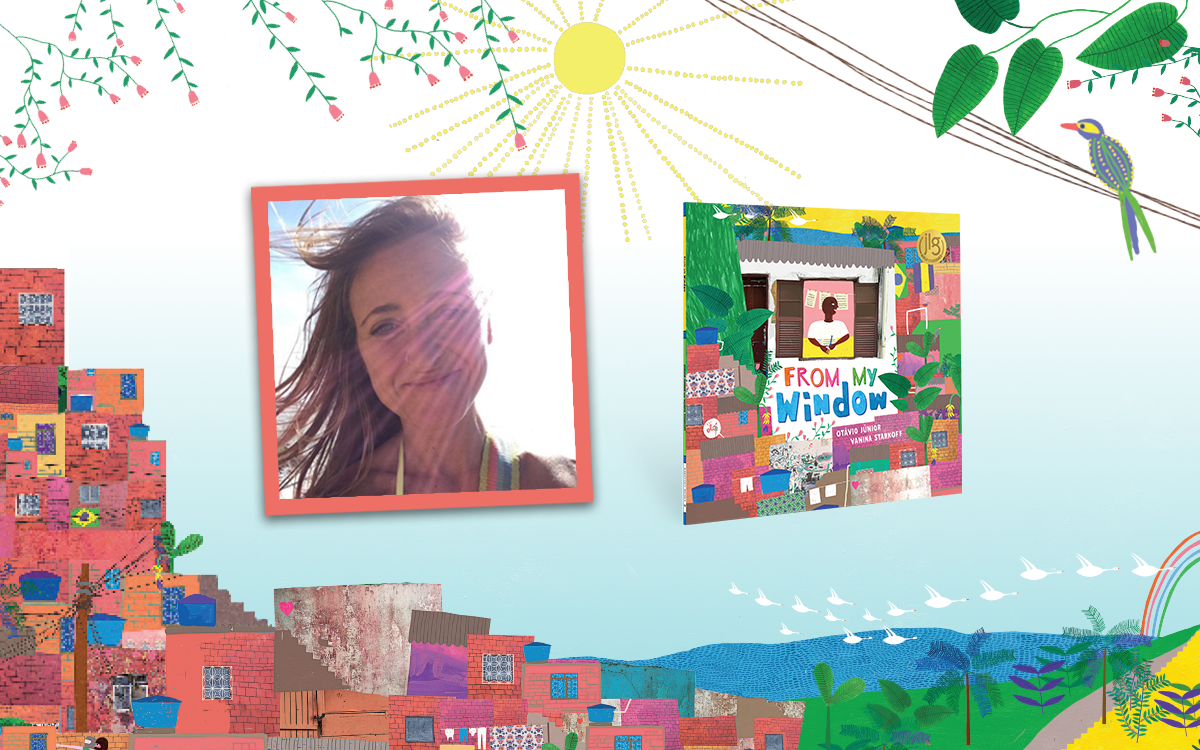 Since its publication in the spring of 2020, our picture book From My Window has received some serious critical acclaim! It earned a starred review from Publishers Weekly and was a Junior Library Guild Selection in 2020. This past year, From My Window was nominated for the Cybil Award. Written by Brazilian storyteller and theatrical producer Otávio Júnior, the story offers a first-hand view of what children growing up in the favelas of Río de Janeiro see everyday. We spoke to the illustrator Vanina Starkoff about the inspiration behind her vibrant artwork, which juxtaposes brick buildings with lush jungle plants.
Note: Vanina's answers have been translated from Spanish. Lee la entrevista en español.
How did you learn about the favelas in Río?
In 2015, I decided to move to Río de Janeiro — until then I had lived in my hometown Buenos Aires. One day, I met Otávio at a book fair in the city of Río. He told me about his project and said that in order to work on this book, I should visit several favelas with him to capture the essence of everyday life. This is something that is very much in line with my way of working. I love observing the everyday life of each place.
But it was a great challenge. Sometimes I had to capture that essence and other times I had to transmit that essence as if I had always lived there, as if it was coming from Otávio's experience.
Did you learn anything that surprised you when you visited the favelas?
Yes. The favelas have the best views of the whole city and, in some of them, it is very nice to see its beautiful coexistence with nature because of their proximity to the 'morros' (big mountains that the favelas sit upon).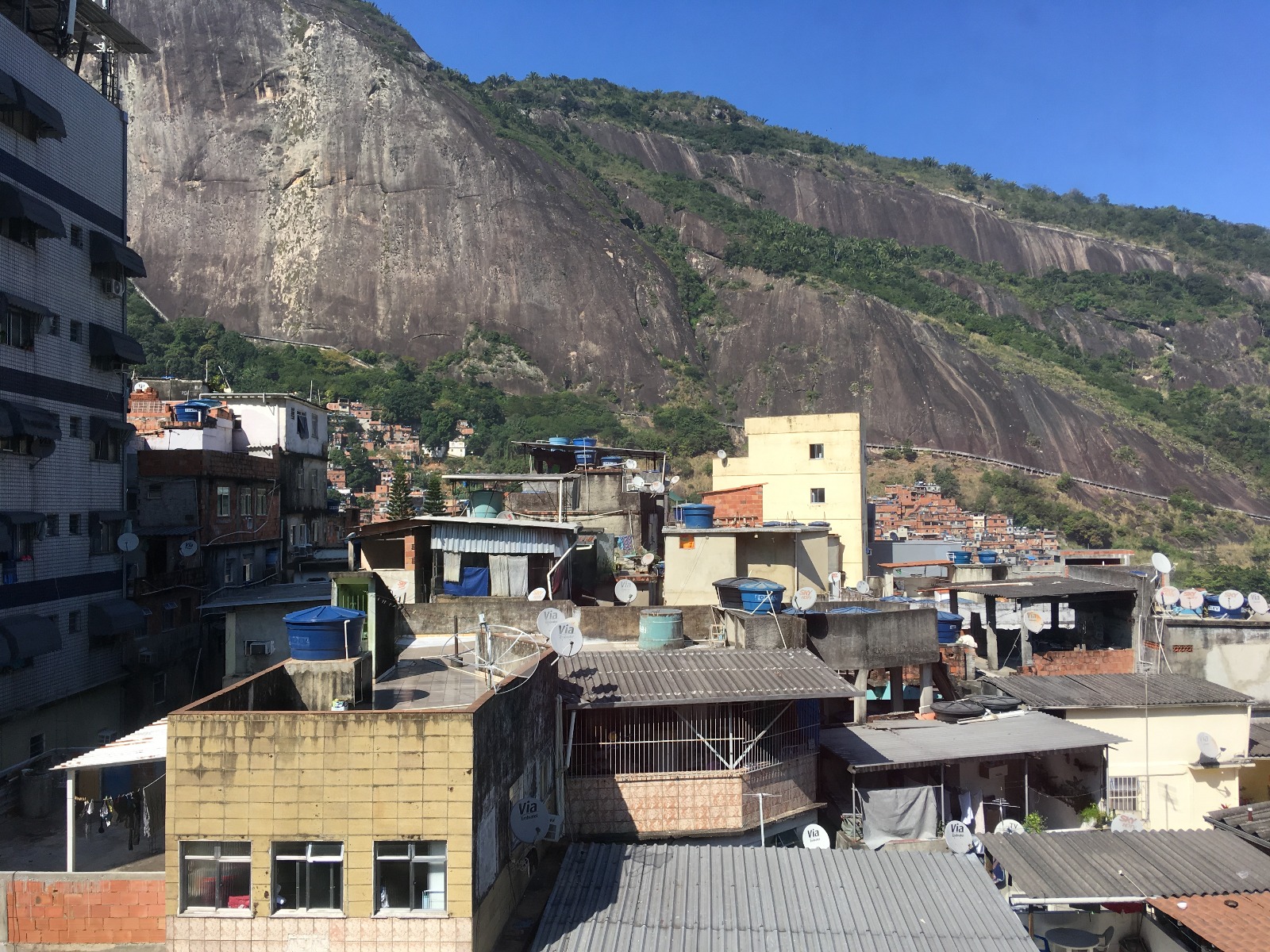 What was your process to create the illustrations for From My Window?
To create the illustrations for From My Window, I tried to be very present in every walk we took: observing and absorbing everything I saw and felt around me. For several months I was not able to draw much, but I kept trying by looking at photos, videos, and all the material that kept me connected to the world that I had to create. Then, little by little, those illustrations that you see today in the book started to come out.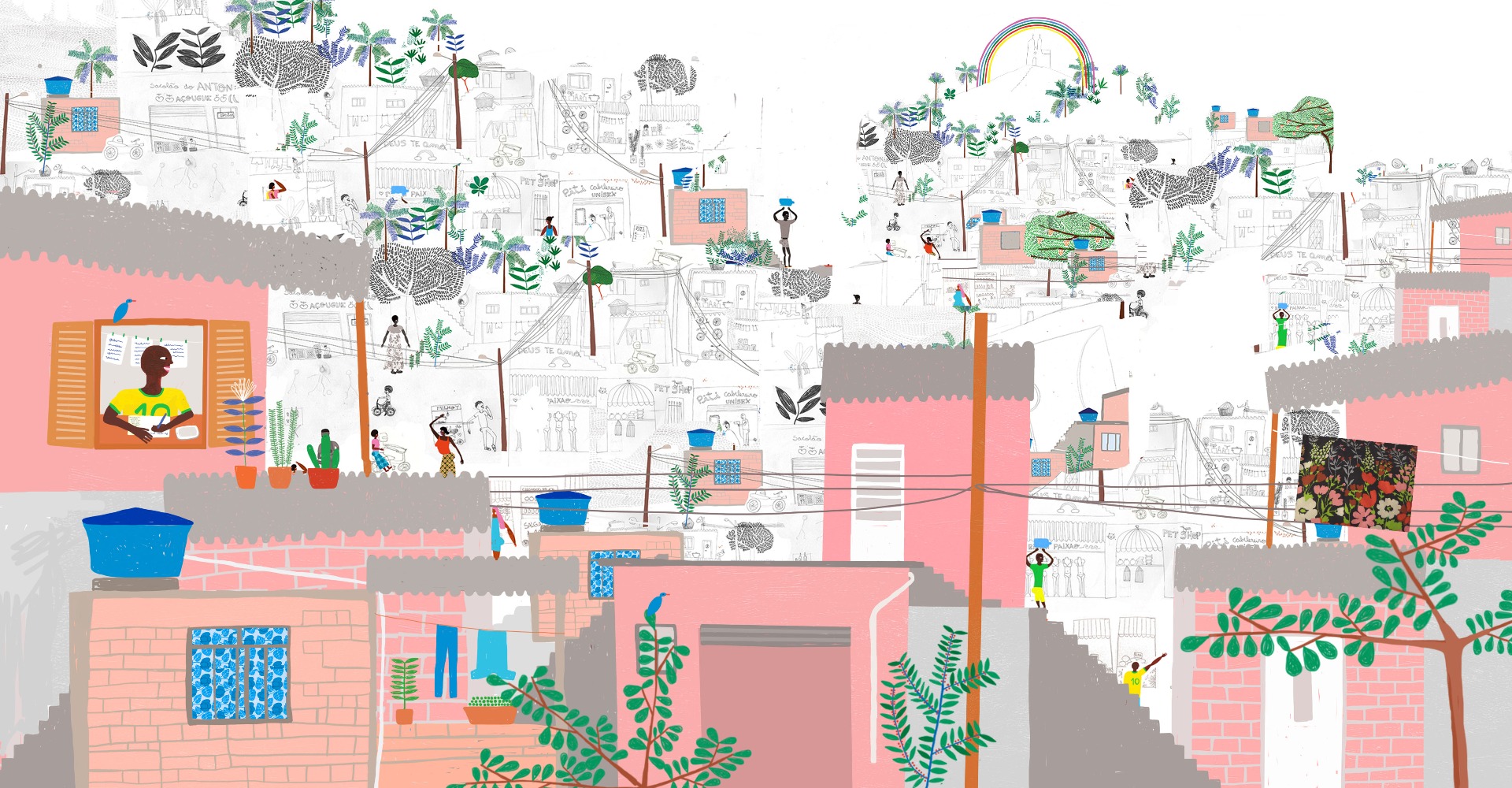 What is your favorite illustration from From My Window?
The illustration I like the most from From My Window is the last one in the book, where you see a big overview of the favela, where all the scenes from the book come together.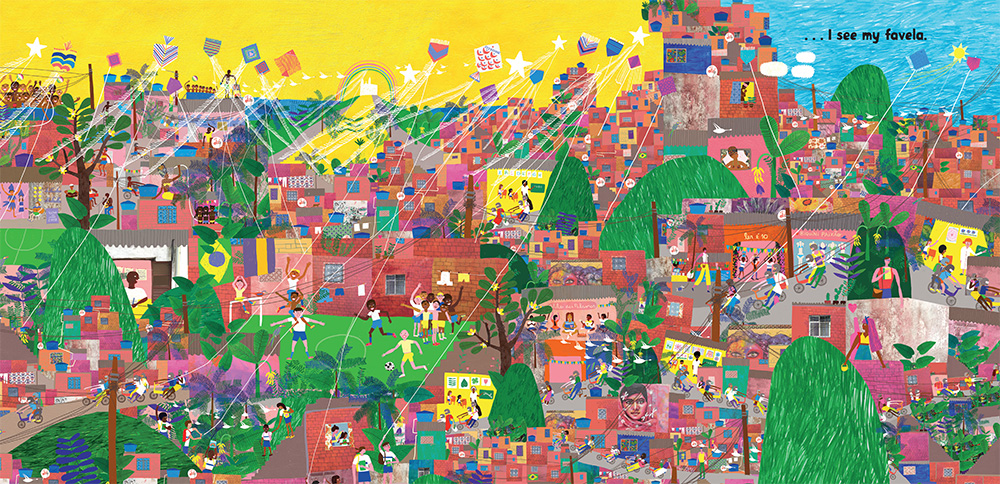 I like it because of the number of elements used. The characters and details can transmit a little bit of the essence of what a favela is. Of course, not all of them (the favelas) are the same, but most of the ones I visited with Otávio are worlds within endless worlds and are full of life.
What do you hope children get out of this book?
That children can learn something new. I'd like to inspire them to learn about daily life in the favelas of Río de Janeiro.
That every child who lives in a favela feels represented, reflected in this book, as if they had drawn the scenes and characters themselves.
What advice do you have for children who want to become artists?
To never stop believing and nurturing their deepest desires. That they should pursue their dreams with a lot of patience and, above all, with a lot of love.
That they should choose their work/profession with the love and joy they can feel in their heart.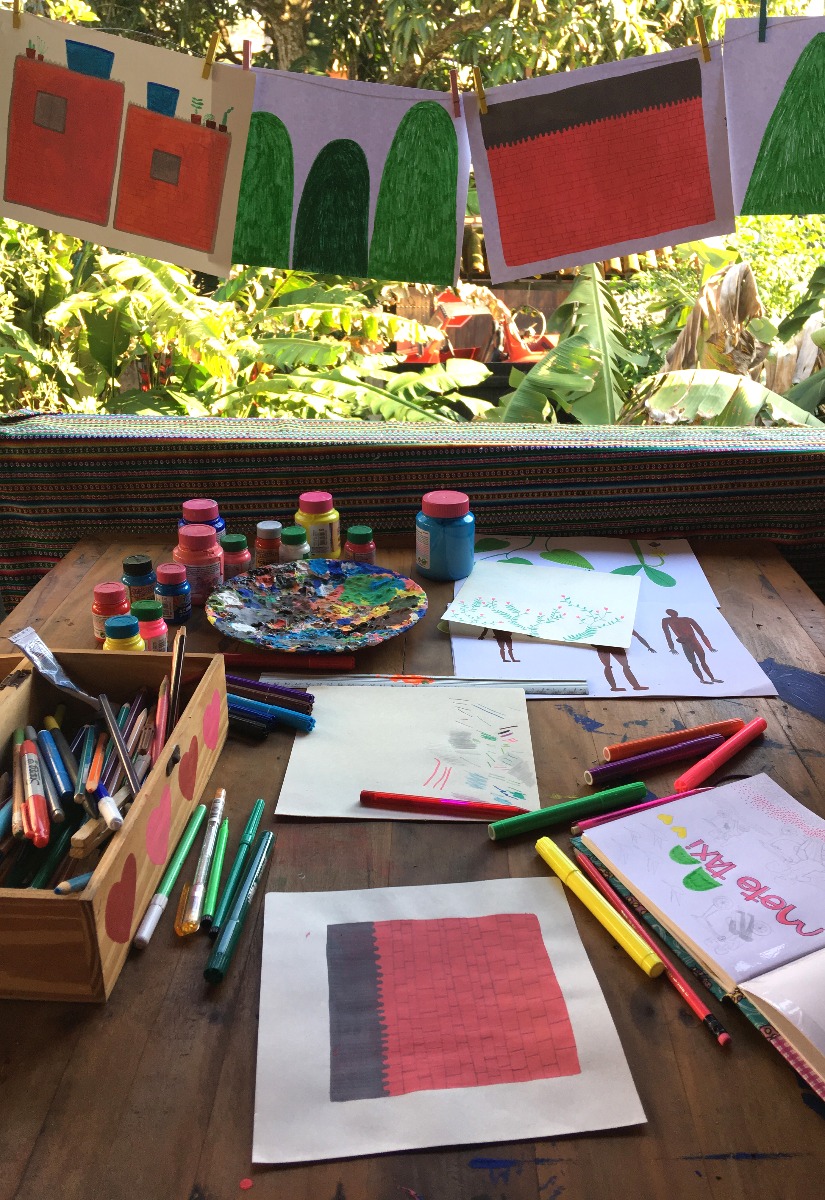 ---
About Vanina Starkoff
Vanina Starkoff was born in Buenos Aires, Argentina. She studied graphic design at the University of Buenos Aires and she graduated with the Colombian illustrator José Sanabria. Since completing her first picture book in 2010, she has gained international recognition for her vivid landscape illustrations. She lives in Buzios, Brazil.
About Otávio Júnior
Since discovering an old book in a rubbish pile when he was eight years old, Otávio Júnior has never stopped reading. Today he is a writer, actor, storyteller and theatrical producer in his hometown of Rio de Janeiro, Brazil. Otávio also founded the Ler é 10 — Leia Favela project, which opened the first permanent library in the favelas of Complexo de Penha and Alemão in Rio and continues to bring the love of reading to children in his community.
About From My Window
★ "Júnior, a writer who grew up in a favela in Rio de Janeiro, has created a loving tribute to his home . . . . Digitized acrylic paintings by Starkoff are an artfully composed quilt of colors and activity; they combine the sweep of a grand mural with intimate, relatable moments of fun, joy, and resilience, and provide plenty for young readers to notice and appreciate"
– Publishers Weekly, starred review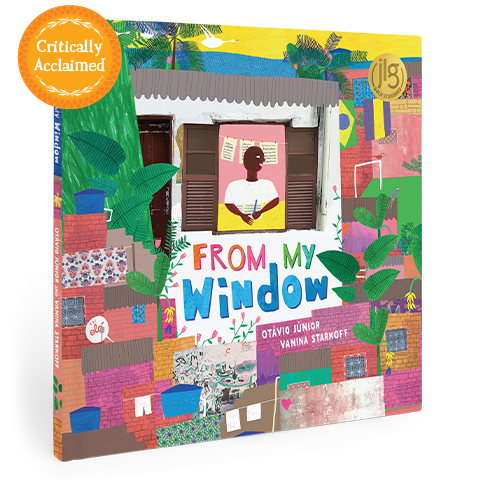 Written by Otávio Júnior
Illustrated by Vanina Starkoff
Translated by Beatriz C. Dias
What do you see from your window? This critically-acclaimed picture book from Brazil offers a first-hand view of what children growing up in the favelas of Rio de Janeiro see everyday. A vibrant and diverse celebration of urban community living, brought to life by unique, colorful illustrations that juxtapose brick buildings with lush jungle plants.
---
¿Cómo se enteró de las favelas en Río para poder ilustrarlas desde From My Window?
En el año 2015 decidí irme a vivir a la ciudad de Río de Janeiro (hasta ese año viví en mi ciudad natal Buenos Aires). Así es que conocí a Otávio en un Salón del libro en la ciudad de Río.
Otávio me contó de su proyecto, me dijo que para participar en este libro debería recorrer varias favelas con él para así poder captar la esencia de lo cotidiano, algo que está muy alineado con mi forma de trabajar. Adoro observar las escenas cotidianas de cada lugar. Fue un gran desafío para mí ya que debía captar esa esencia en algunas visitas y transmitir esa esencia como si siempre hubiese vivido allí como si fuese la mirada o el sentimiento de Otávio.
¿Aprendiste algo que te sorprendió cuando visitaste las favelas?
Sí, que tienen las mejores vistas de toda la ciudad y en algunas es muy lindo ver la hermosa convivencia con la naturaleza por su cercanía con los morros.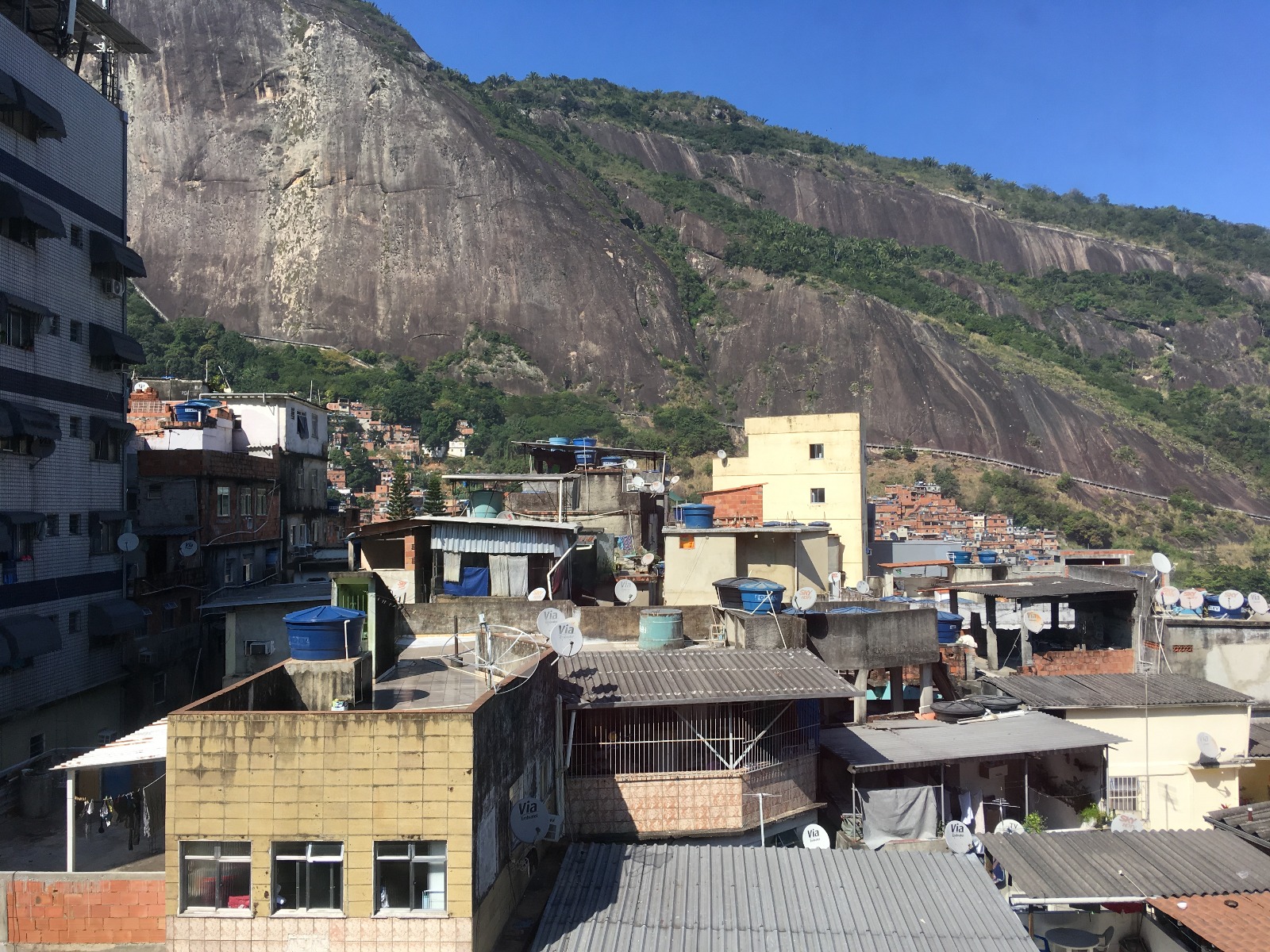 ¿Cuál fue su proceso para crear las ilustraciones de From My Window?
Para crear las ilustraciones de From My Window trate de estar muy presente en cada paseo que hicimos, observando, absorbiendo todo lo que veía, sentía a mi alrededor. Estuve varios meses en los que no conseguía dibujar mucho, pero intentándolo, mirando fotos. videos, todo material que me mantuviera cerca de ese mundo que debía crear.
Hasta que de a poquito fueron saliendo esas imágenes que hoy pueden ver en el libro.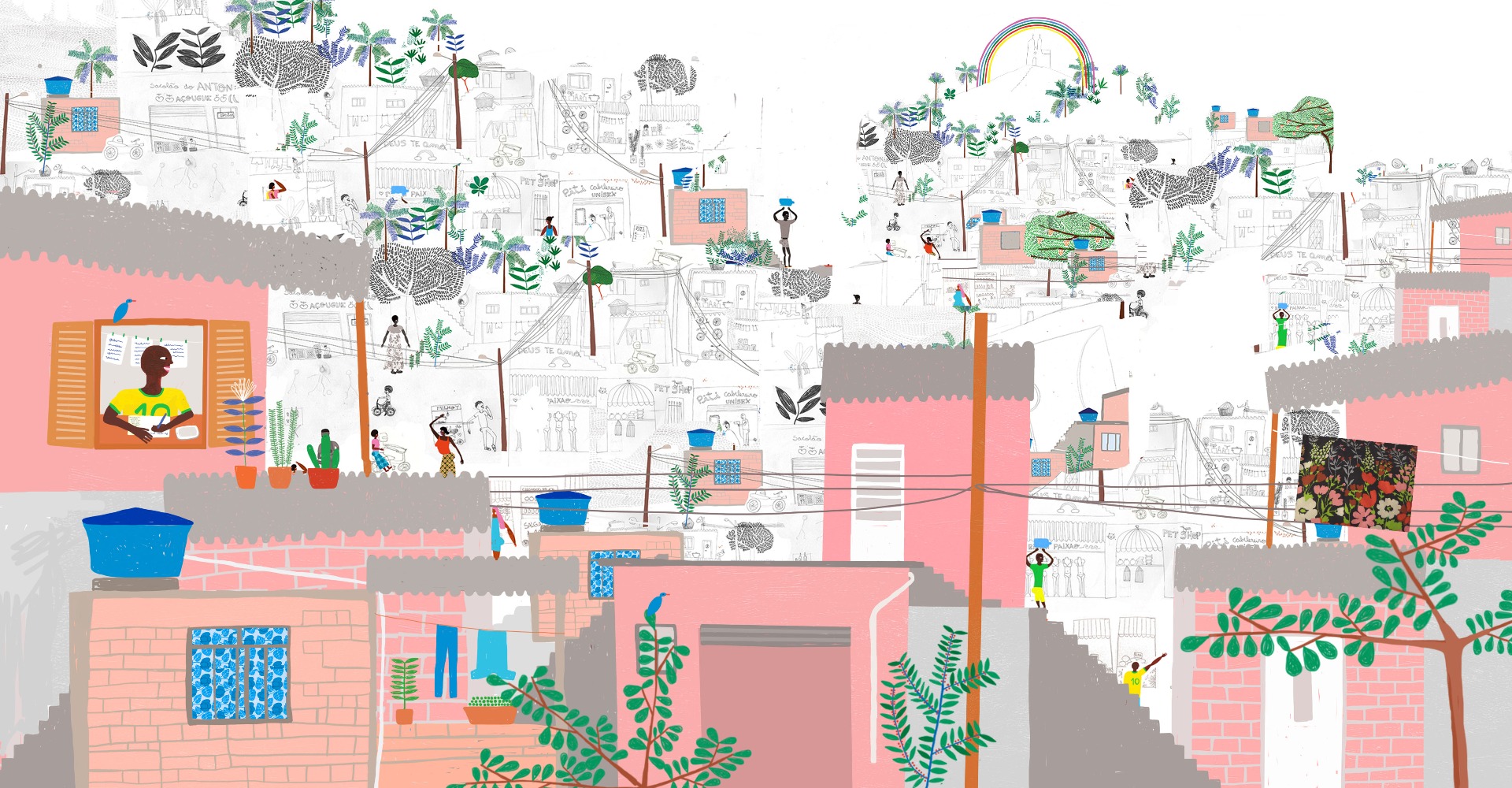 ¿Cuál es tu ilustración favorita de From My Window?
La ilustración que más me gusta de From My Window es la última del libro, donde se ve una gran escena de la favela donde aparecen todas las escenas juntas del libro.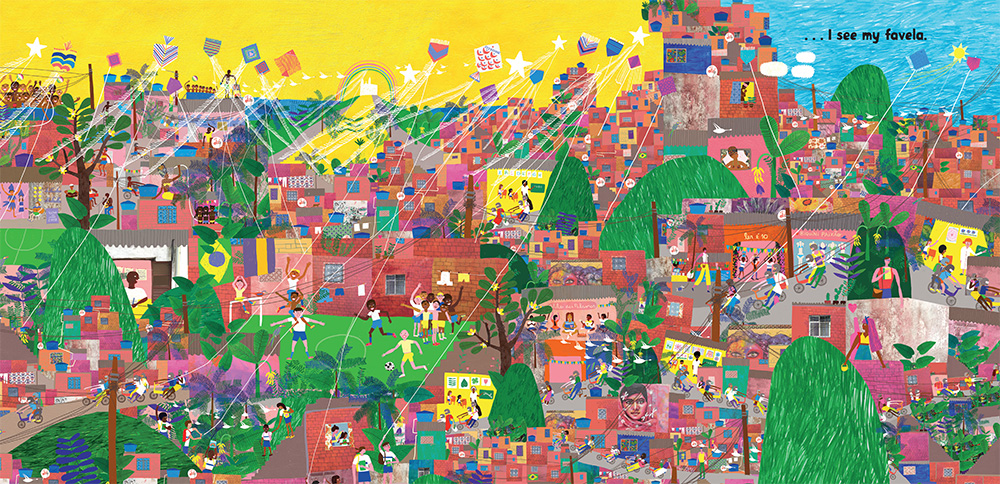 Me gusta porque por la cantidad de elementos, personajes, detalles puede aquí transmitirse un poca la esencia de lo que es una favela. No todas son iguales, pero la mayoría de las que he visitado junto a Otávio son mundos dentro de mundos interminables llenos de vida.
¿Qué esperas que los niños obtengan de este libro?
Que pueda contarles algo nuevo, que sea atractivo para ellos conocer sobre el cotidiano de las favelas de Río de Janeiro.
Y que cada niño que habita en una favela se sienta identificado, reflejado en este libro, como si hubieran dibujado ellos mismos las escenas y los personajes.
¿Qué consejo tienes para los niños que desean convertirse en artistas?
Que nunca dejen de creer y alimentar sus deseos más profundos. Que se dediquen a realizarlos con mucha paciencia y sobre todo con mucho amor.
Que elijan su trabajo/profesión por el amor y la alegría que puedan sentir en su corazón.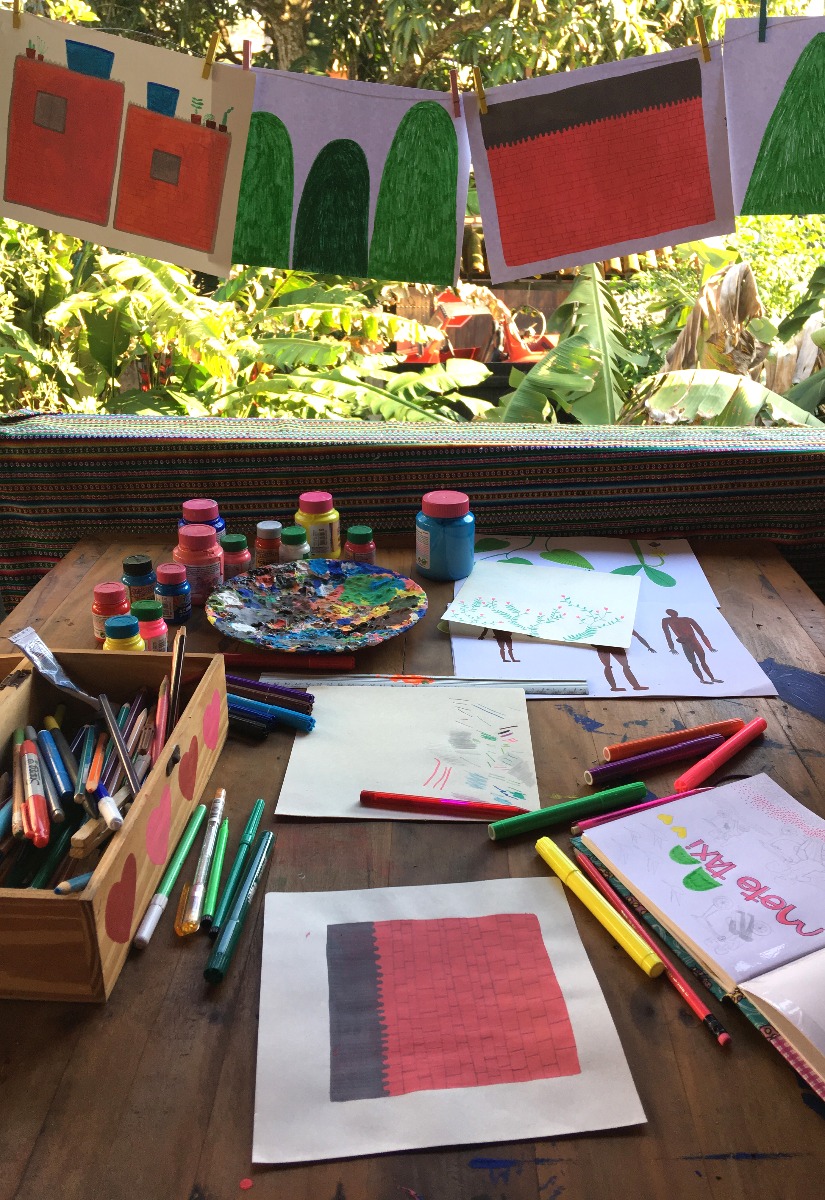 ---
Sign up for our mailing list!